Paul César Helleu
Vannes 1859 – Paris 1927
Portrait of a Woman
Black pencil, stumping. Signed Helleu at upper left.
Diameter 310 mm – 12 13/16 in.
The « Engraver of feminine elegance » (Eugène Rouir), Paul César Helleu was also the much-admired portraitist of the aristocracy of his time and the friend of John Singer Sargent, James Abbott Mc Neill Whistler, Robert de Montesquiou, Jacques-Émile Blanche, James Tissot, and Claude Monet with whom he decided not to participate in the 8th Impressionist exhibition. A figure of the worldly artist, nostalgic for the playful atmosphere of 18th-century art, Helleu was Marcel Proust's model for his painter Elstir. The "Helleu style" long remained a synonym for elegance, grace and fashion in Paris, London or even New York, where he painted Grand Central Station starlit ceiling in 1912.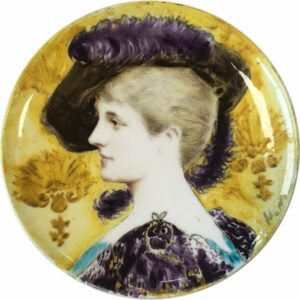 At the beginning of his career, Helleu collaborated with the ceramist Théodore Deck to the execution of plates or plaques for which he provided drawings (Fig.1). This circular portrait is probably a preparatory drawing for such a project.
Condition report – Very good condition.