Pieter de Molyn
London, 1595 – Haarlem, 1661
Landscape
Black chalk and gray wash on blue paper
143 x 197 mm – 5 5/8 x 7 3/4 in.
Born in London, Pieter de Molyn spent most of his life in Haarlem where he was first documented in 1616. He is renowned for his innovative landscape paintings which are notable for their almost monochromatic tonality and diagonal composition .
With Pieter Molyn, the characters animating the landscapes are very often the actors of an event. Thus, in the case of our sheet, the peasants, appearing in the middle of the scene observe, on the right, a hunting scene. This is the tendering that takes place during the migration of the thrushes, in autumn, during the months of September and October. This method of hunting, which consists of capturing the thrush by means of horsehair laces, is practiced in two ways: on the branch or on the ground. In our drawing, it is about the way to the ground: the hunters have posed after the mowing of the fields of the wires between two broken branches to try to trap the birds.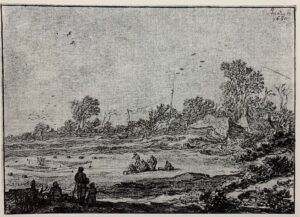 In his catalog raisonné of the artist's drawings, Hans Ulrich Beck lists about fifteen drawings dealing with this subject. Figures standing, watching bird hunters, can be found in a drawing in the Pushkin Museum in Moscow (fig. 1; inv. no. 1071)[1]. The hunters, having set their trap and ready to catch their prey, are perfectly described in the sheets of the Fitzwilliam Museum of Cambridge: The Bird Trappers in the Dunes (inv. n° PD 476-1963)[2] and museums of Brussels (fig. 2; inv. no. 2561)[3].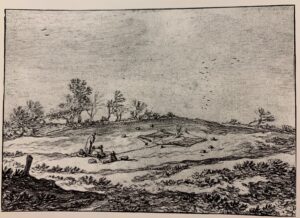 For these landscapes made in the years 1654-1655, Molyn favored papers of a rectangular format of 140/150 by 185/195 mm like our sheet.
We can appreciate in this drawing the nervous line of the black stone and the diagonal arrangement of trees and houses to create an illusion of space. Unlike his contemporary Jan van Goyen who sketched landscapes from nature on travel diaries, Molyn executed his views according to his imagination.
Condition report – Perfect condition.
[1] Hand-Ulrich Beck, Pieter Molyn 1595-1661. Katalog der Handzeichunungen, Davaco, Publishers, Augsburg, 1998, p. 95, n° 141. Dessins flamands et hollandais du Dix-septième siècle. Collections de l'Ermitage, Leningrad et du musée Pouchkine, Moscou, catalogue d'exposition, 1972-1973, n° 66, p. 44, pl. 67.
[2] Op. cit., p. 96, n° 145.
[3] Op. cit. p. 98, n° 150.