Benjamin Rabier
La Roche-sur-Yon, 1864 – Faverolles, 1939
Goose and Goslings
Pen and dark ink, lightly heightened with stumped blue
Inscribed with blue pencil lower left L'Oie and numbered 1 (over 2)
Inscribed with pencil in the left margin C'est un habitant de distinction / il pond au mois de mars
280 x 210 mm – 11 1/32 x 8 1/4 in.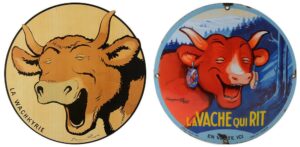 A great draughtsman since his childhood, Benjamin Rabier very early on became one of the most successful illustrators of French satirical newspapers such as Le Rire, Le Pêle-Mêle, and later L'Assiette au beurre, Le Chat noir, and La Jeunesse illustrée. Building on that success, he soon began to illustrate books, such as La Fontaine's Fables or Le Roman de Renart, and even publish his own newspaper Histoire comique et naturelle des animaux (1907 – 1908) and comic books. His character Tintin-Lutin, a little boy wearing tuft and knickerbockers who happens to ride a motorbike to Moscow, inspired Hergé his famous reporter. For a long period of time, hard-working Rabier cumulated a night job as an accountant with his extremely prolific artistic production, until he fell ill and decided in 1910 to dedicate all his time and energy to his art. Rabier created many of the iconic images of his time which accompanied and fostered the sense of humor of a whole generation otherwise deeply affected by war and epidemics. Among those images are Flambeau the war dog and the Lapin va-t-en guerre, a rabbit holding a trumpet which was the logo of the planes of squadron SAL 39 (Joseph Kessel's squadron) and which later became the logo of the Gringoire biscuits. Working in advertising, he created the famous and definitely optimistic logo of the Vache qui rit (first created for the meet transportation during First World War, then used in 1919 to illustrate a fox-trot music sheet called Wachkyrie and finally, in 1923, for advertising Léon Bel's cheese).  In 1916, he had started to make animated cartoons, a technique fully expressing his great sense of rhythm and movement: Flambeau the dog and Gédéon the yellow duck (1922 to 1925) became his most famous characters.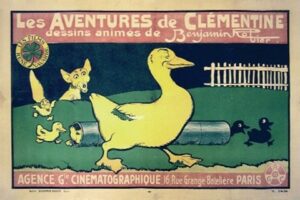 This amusing drawing is a project for a cartoon. It could prepare a plate in Rabier's newspaper Histoire comique et naturelle des animaux or in another cartoon project. Rabier was inspired by every kind of animal but goose is to be found many times in his world which often features farm animals. The goose in this drawing is more similar to the ill-tempered Gertrude in Les Contes du lapin vert than to the brave Clémentine in the book named after her.
Condition report: Good overall condition, minor oxidations.