Attributed to Cornelis Saftleven
Gorinchem, 1607 – Rotterdam, 1681
Full length portrait of a man holding his hat in his right hand
Landscape sketch (on the back)
Black chalk and white highlights on blue paper
282 x 122 mm – 11 1/8 x 4 13/16 in.
Inscription on the reverse in pencil: TER BORCH. Inscription on mount: anc. coll. P. Dubaut chez qui le dessin était attribué à Metsu.
Provenance: Pierre Olivier Dubaut (1886-1968), his stamp (L. 2103b) lower left; Alfred Normand (1910-1993), his stamp (L. 153c) on the back.
Letter from Johan Quirijn van Regteren Altena[1] to Alfred Normand dated January 24, 1973 not recognizing the hand of Gabriel Metsu and attributing it to Jan Steen's entourage.
Born in Gorinchem, Cornelis Saftleven, from a family of artists, apprenticed with his father German and his brothers Abraham and Herman. He moved to Antwerp between 1632 and 1634, then settled in Utrecht where he was renowned as a painter of genre scenes, landscapes and satirical subjects.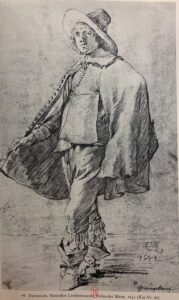 Our drawing, illustrating a full-length man holding his hat in his right hand, can be compared to a Standing Young Horseman by Cornelis Saftleven kept at the Hessisches Landesmuseum in Darmstadt (fig. 1)[2]. The garment worn, consisting of a buttoned waistcoat and a large cape, can be dated to the years 1640-1645.
Cornelis Saftleven's drawings cover a wide range of subjects of biblical, mythological, allegorical, social or political inspiration, including genre scenes. His career as a draftsman is well documented. The specialist Wolfgang Schulz has cataloged more than seventy-five isolated figures, male or female[3]. Cornelis Saftleven made almost all of them in black chalk, often with additions of gray wash. Only a small part can be considered as preparatory studies for paintings. The artist must have kept these studies in his studio, those bearing his monogram and a date must have been intended for sale to collectors.
we can understand the old inscription on the back, attributing the drawing to Gerard Ter Borch (Zwolle, 1617 – Harwich, 1681) by the care taken in rendering the drapes echoing certain sheets by the artist such as the Card Player (preserved in the Städel Museum in Frankfurt am Main, inv. 926).
Condition report – Small lack at the bottom right. Small workshop stains but which do not interfere with the readability of the work.
[1] Scholar J. Q. van Regteren Altena wrote an article for cartoonist Gabriel Metsu "Gabriel Metsu as a Draftsman", Master Drawings, vol. 1, no. 2, Summer 1963, p. 13-19.
[2] Inv. AE 794 ; Wolfgang Schulz, Cornelis Saftleven 1607-1681. Leben und Werke Mit einem kritischen Katalog der Gemälde und Zeichnungen, Berlin, 1978, n° 66, p. 87, p. 260, ill. 66.
[3] Cf. Wolfgang Schulz, op. cit.