Jean-Jacques Grandville
Nancy, 1803-Vanves, 1847
Five Ladies Wearing Hats
Pencil on white paper
215 x 182 mm – 8 7/16 x 7 3/16 in.
Originally from Lorraine, Jean Ignace Isidore Gérard, known as Jean-Jacques Grandville is a 19th-century caricaturist, illustrator and a lithograph. Born in Nancy to an artistic family of actors, he learnt how to draw by copying caricatures he saw in satirical newspaper such as Le Nain jaune. As early as 1820, he drew zoomorphic creatures, half-men, half animals, mocking the foibles of his times. He settled in Paris in 1825 and published many lithography albums such as Les tribulation de la petite propriété (The tribulations of lower bourgeoisie) in 1826 et La Sybille des salons (The Sibyl of the Salons) in 1827. His drawings met such a success that he soon was able to work for numerous newspapers such as La Silhouette et l'Artiste and the famous Le Charivari and La Caricature.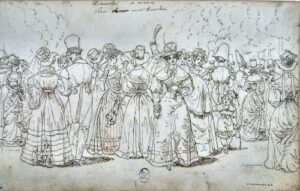 This pencil study presents five elegant women, wearing long sleeves with large gigot sleeves, large collars and hats with feathers and ribbons. Many of these silhouettes appear on a sketch annotated Dimanche à Nancy place et cours Bourbon, in the Jacques Guiaud album[1], nowadays in Musée Carnavalet (inv. D643-20) executed at the beginning of Grandville's career, in the 1820's.  Jean-Jacques Grandville enjoyed to study fashions and behaviors in Nancy, by making elegant drawings on the spot.
[1] Constituted of 173 drawings by Jean-Jacques Grandville, this album belonged to Jacques Guiaud (1810 – 1876), a French painter and illustrator who was one of Grandville's close friends and colleagues.