Giacomo QUARENGHI
(Rota d'Imagna, 1744 – Saint-Pétersbourg, 1817)
Elevation project for a palace facade
Pen, ink, gray and brown wash on paper.
355 x 735 mm – 13 31/32 x 28 15/16 in.
Inscribed in pencil lower right : Progetto del Quirinale.
Mount with the inscription : Giacomo QUARENGHI/Progetto per il Quirinale/1779.

Provenance : London, Phillips, December 12th 2001, n° 51 ; Paris, private collection.
Very prolific Architect and designer, Giacomo Quarenghi is
one of the most important protagonist of the renewal of Russian architecture under the reign of Catherine II.
Born in Rota d'Imagna near Bergamo in a noble Italian family, Quarenghi began to study painting in the Bergamasque studio of G. Reggi then arrived in Rome in 1763 where he continued his apprenticeship with Anton Raphael Mengs and Stefano Pozzi. Between 1767 and 1769 he learned architecture from Paolo Dosi. His work in Italy and for English clients brought him a reputation important enough that in 1779 he was chosen by the Count of Prussian origin Rieffenstein, who was commissioned by Catherine II of Russia to send him two Italian architects to replace his French architects. Quarenghi's first major commission in Russia was the English Palace at Peterhof, a magnificent rectangular building with a Corinthian portico.
Appointed to the post of architect of the court of Catherine II, Quarenghi produced a prodigious number of drawings for the Empress, her successors and the members of her court: houses, pavilions, bridges, theaters, hospices, market, bank, interior decorations and garden designs. He creates neoclassical buildings with an influence of the Palladian style with clear and precise designs.
According to the pencil inscription at the bottom right of the sheet, this facade elevation would be a project for the Quirinale ?, if it is about the Quirinale Palace in Rome, this inscription seems wrong. Giacomo Quarenghi here draws inspiration from Palladian models to create his architectural designs such as the Elevation of the facade of the St. Petersburg Academy of Sciences (Fig. 2)
[1]
.
The honor facade of
Ostankino
Castle in Moscow (Fig. 2) for which Giacomo Quarenghi works with Russian architects Pyotr Argunov and Ivan Starov uses the same tripartite arrangement of the facade with projecting porticoes supported by Ionic columns.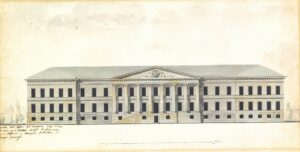 Fig. 1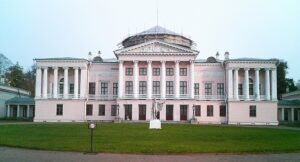 [1] Dessin présenté chez Sotheby's, vente Londres, 3 juillet 2013, n° 92 (304 x 591 mm).