Francesco Zuccarelli
Pitigliano, 1702 – Florence 1788
Bacchus and Ariadne
Black stone, white chalk on blue paper.
222 x 409 mm – 8 3/4 x 16 1/8 in.
A talented painter and draftsman, Zuccarelli was very appreciated by his contemporaries who abundantly collected his poetic landscapes. He began his training in Tuscany with Paolo Anesi and then spent several years in Rome in the studio of Giovanni Morandi. In the Eternal City, he discovered the classical tradition of landscape painting through the works of old masters, such as Claude and Poussin, but also through contemporary painters, such as Locatelli and Van Bloemen. After a brief return to Florence, he moved to Venice, where he became known primarily due to Count Algarotti who purchased 36 of his paintings. He earned high regard of important collectors and met the Consul Joseph Smith who introduced him to the English circle, very present in the Venetian society. It is possible that he decided to go to London following his advice; he stayed there from 1752 to 1762 for the first time and then from 1765 to 1771. In London, his career expanded rapidly, he worked for many amateurs and was one of the founders of the Royal Academy. Back in Italy, he received orders from prestigious collectors, such as the Elector of Saxony and the King of Prussia.
Specialist in landscape painting, Francesco Zuccarelli also painted some religious and mythological scenes. This unpublished drawing illustrates the moment when Bacchus meets Arianne, abandoned by Theseus, on the island of Naxos.
The drawing is a preparatory study for an arched painting nowadays in Syon House, London, in the collection of the Duke of Northumberland (fig.1).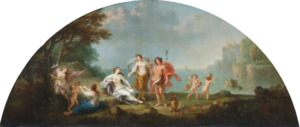 Many differences between the painting and the drawing can be observed : the putti in the background are in the other direction, the ewer is in a different place and the surrounding landscape is not as well defined as in the painting. In the upper part of the drawn composition, the draft of a semi circle can be discerned, which preludes the idea of the arched composition.
The painting was engraved by
Fabio Berardi (1728 – 1788), an engraver who collaborated on several occasions with Zuccarelli. This drawing bears witness to the delicacy and refinement of Zuccarelli's pictorial universe.
Condition report – Very good general condition, the blue paper turning to grey.