Jean-Jacques Lagrenée, dit le Jeune
Paris, 1739 – Paris, 1821
An Offering to Love
Oil on oak panel
258 mm x 202 mm – 10 3/16 x 7 15/16 in.
Signed lower left: J. J. Lagrenée.
Provenance : Paris, vente Drouot, 19 December 1994, lot 68 ; Paris, Jean-François Heim gallery, 2009.
The pupil of his elder brother Louis-Jean-François, Jean-Jacques Lagrenée travelled with him to Russia from 1760 to 1762 after having won the second grand prix de Rome. A trip to Italy from 1763 to 1768 sparked off his interest for Antiquity; he made numerous studies of Roman remains in the vicinity of Naples. Made an agréé at the Royal Academy in 1769, he regularly exhibited at the Salon from 1771 to 1804. In 1775, he was finally received at the Academy with his ceiling décor in the Apollo Gallery in the Louvre, called Le Plafond de l'Hiver. He also executed many drawings for the Sèvres Manufactory and introduced a new repertoire of vase shapes and patterns.
Wearing a classical tunic, a young woman is kneeling in a luxuriant garden and laying a flower garland at the foot of the sculpture of Eros, the young god of Love. With her bust half exposed, she seems to be pausing for a moment of silence, an attitude which gives the scene a quality of simplicity and intimacy. A dog is sitting next to her, a symbol of faithfulness which also suggests the quest for the absolute love.
A very fashionable theme at the end of the 18th century, this subject is reminiscent of the paintings "à la grescque" created by Lagrenée's fellow painter, Joseph Marie Vien (1716-1809), in the wake of the neoclassic trend. At the 1769 Salon, Jean-Baptiste Greuze exhibited an A Young Woman praying at the Altar of Love, nowadays in the Wallace Collection in London (fig.1).[i]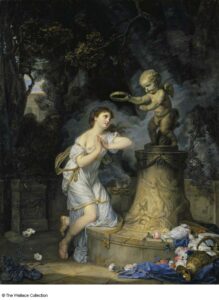 Jean Jacques Lagrenée also treated this subject of 'The Offering to Love' in a similar but horizontal[ii] work, which appeared in the Verrier sale[iii] in 1776 in which catalogue it is described as: "Offrande à l'Amour/ Une jeune nymphe faisant l'offrande d'une guirlande de fleurs à la statue de L'Amour: elle est à genoux, la gorge et les bras nus, dans une attitude suppliante. Le côté gauche du tableau est marqué par le feuillage d'un bois ; et dans le fond à droite, on voit venir plusieurs autres nymphes"[iv] [Offering to Love / A young nymph offering a flower garland to the statue of Love ; she is kneeling, with her bared bust and arms, in a pleading attitude. The left-hand side of the paintings shows vegetation from the woods; in the background, on the right-hand side, other nymphs are visible.] Now lost, this painting is only known through an etching by Jean-François Janinet [v] (fig. 2).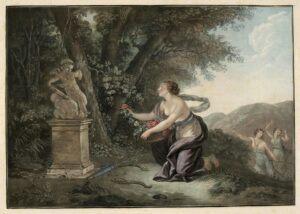 Our painting also relates to a small panel of the same subject, An Offering to Love, of the same dimensions and dated 1780, sold at Christie's in 2018 : a young woman holding a spear – probably the goddess Diana – is standing with her dog  in front of a sculpture of Love and is holding a very similar garland of roses.  
On the basis of the comparison with these paintings, we can date our painting to around 1775-1780.
Condition report – good state of conservation. The paint presents a network of vertical cracks over the entire surface.
[i] A Young Woman praying at the Altar of Love, oil on canvas, H. 145,5 cm; L. 113 cm, acquired by the Duc de Choiseul. London, Wallace Collection, inv. P441.
[ii] The dimensions of the painting mentioned by Marc Sandoz are: 9 pouces 6 x 13 pouces 6 (about 24 x 35 cm).
[iii] Verrier Sale, Paris, 18 November 1776, n° 113.
[iv] Marc Sandoz, Les Lagrenée, Tome II Jean-Jacques Lagrenée (1739-1821), Paris, 1988, n° 62, with reproduction p. 198 of Janinet's etching.
[v] Jean-François Janinet (1752-1814), color etching, H. 34,9 cm ; L. 50,7 cm. Cf. Portalis et Beraldi, Les graveurs du XVIIIe siècle, 1881, n° 59. The BNF print was exhibited in Exposition d'œuvres d'art du XVIIIe siècle à la Bibliothèque nationale, Paris, 1906, n° 656.