Marie-Désirée Bourgoin, a woman painter in the spotlight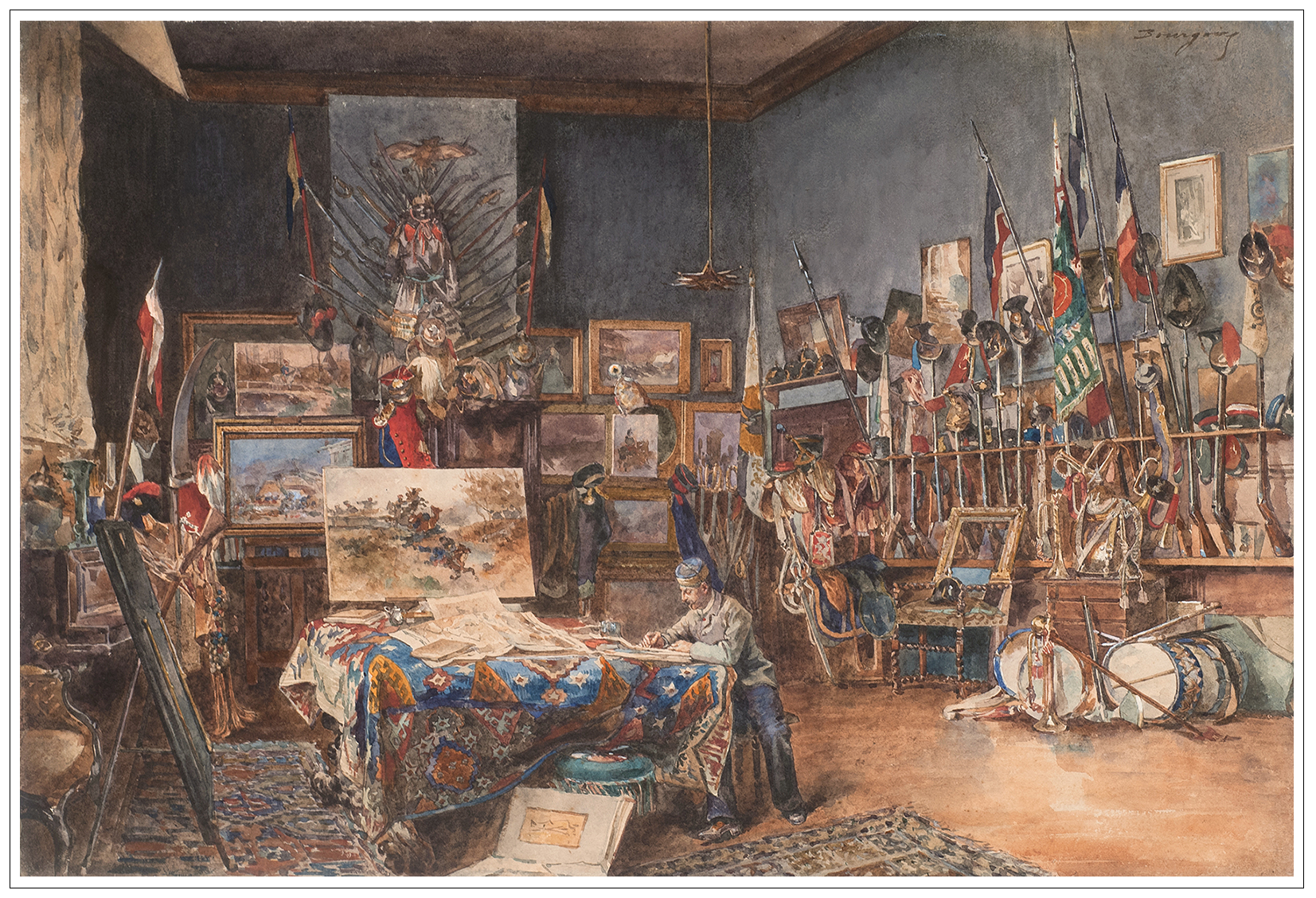 This month, we will focus on a view of military painter Alphonse de Neuville's extravagant studio, drawn by the 19th-century too little-known woman artist, Marie-Désirée Bourgoin.
---
A watercolor painter, specialized in portraits, landscapes and interior views, Marie-Désirée Bourgoin deserves wider recognition. Characteristic of the second half of the 19th century, her works convey the eclecticism and lavishness that then prevailed and the atmosphere of extreme civilization of these "marvelously strange furnishings" (Huysmans). As in her views of Ernest Meissonier's or Sarah Bernhardt's workshops, she marvelously captures with her thin brush the abundance of colors, textures, and objects so typical of the taste that developed during Second Empire, a taste immortalized by the writer Joris Karl Huysmans in his famous Against the grain (1884).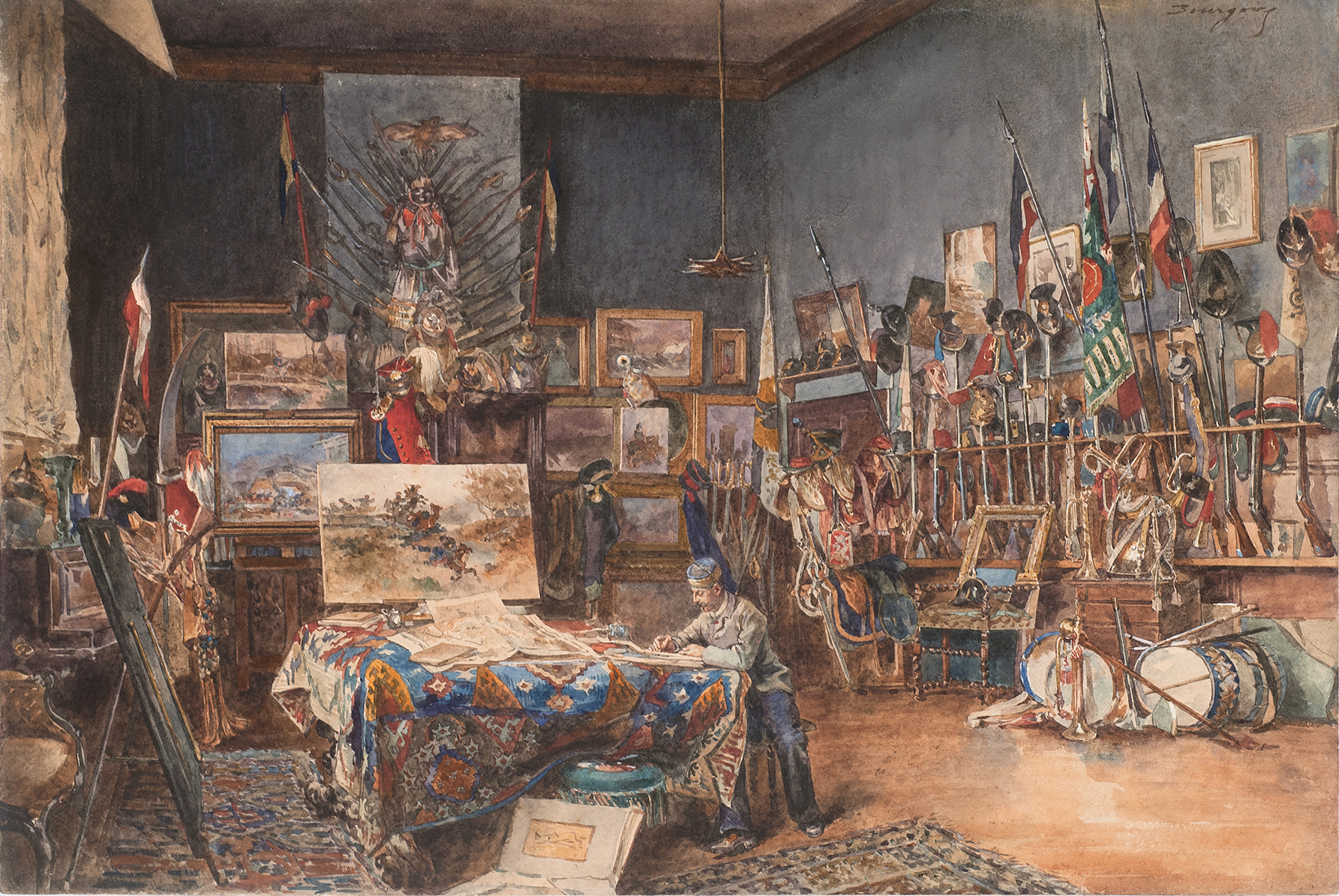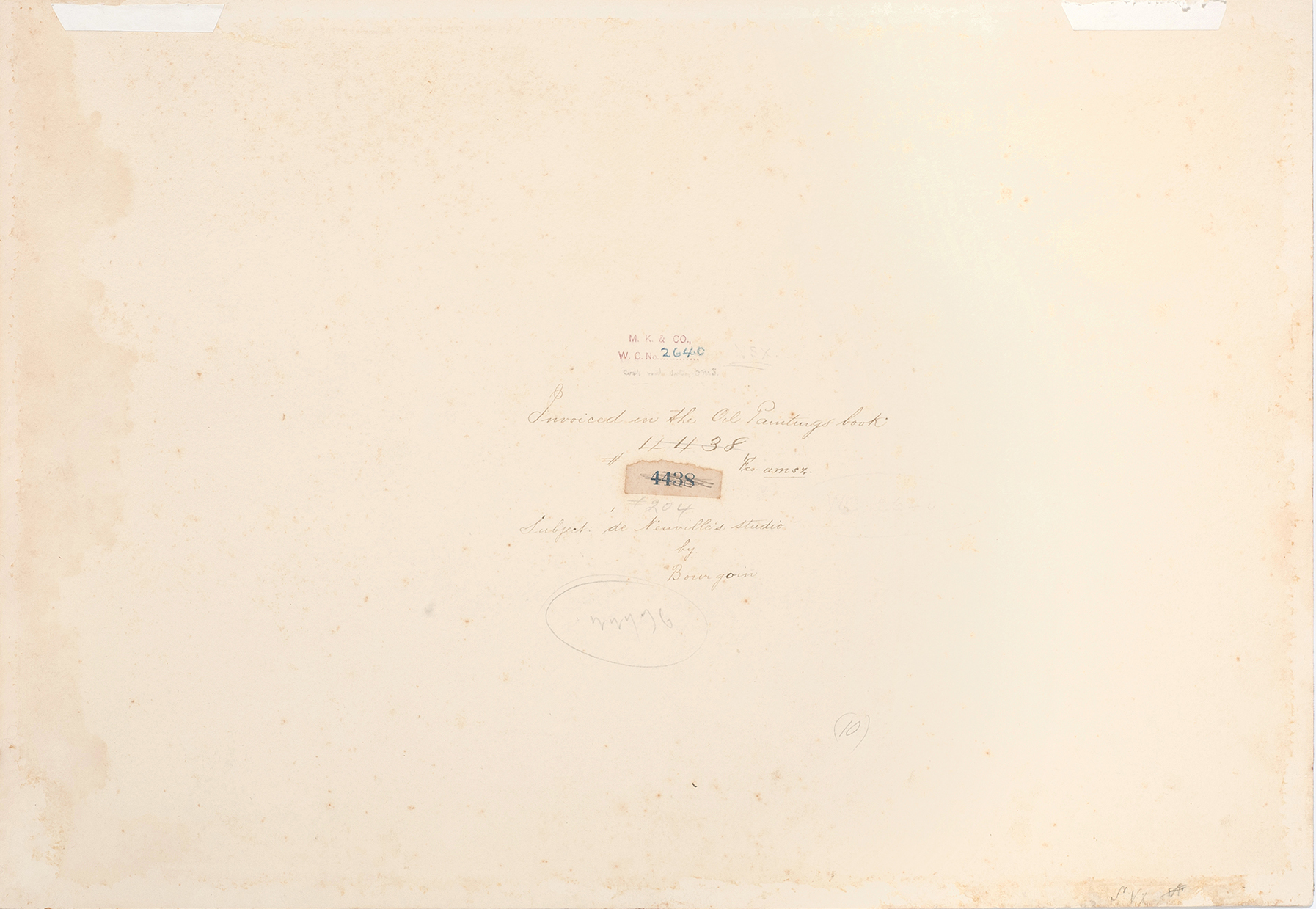 MARIE-DÉSIRÉE BOURGOIN
Paris ? 1839 – Paris 1912
Painter Alphonse de Neuville in his Studio
Watercolor, pencil
Signed Bourgoin at upper right
367 x 541 mm (14 ½ x 21 3/8 in.)
Provenance : Inscriptions on the verso of an Anglo-Saxon art dealer: Invoiced in the oil painting book/#4438/Fes am 54/# 204/Subject de Neuville's studio/by/Bourgoin.
---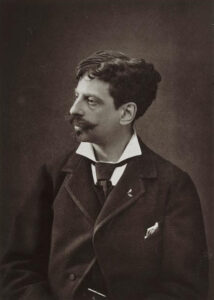 Even without any inscriptions referring to the model's identity, we could not fail identifying the battle painter Alphonse de Neuville (1836 – 1885), whose stern face, long nose and characteristic whiskers are known from several photographs (including a Woodburytype by Ferdinand Mulnier – one copy is at the Musée d'Orsay, and the other at the Los Angeles County Museum of Art) as well as from his Self-Portrait with a Black Dolman (Oil on canvas, Fontainebleau, Osenat, 23/03/2014, lot 104).
The artist is shown at work in his studio in the rue Brémontier, leaning over his drawings, little worried about the sketches carelessly scattered about. Around him are spread painting equipments, "weapons, of war, military hats and parts of weapons," which were sold at two posthumous studio sales on May 5 and 6, 1886, lots 270 – 386 and then on May 25, 1898, lot 291. We can also identify the "big carved wooden table, held up by pilasters with gadrooning, scrolled legs, crossbar with fruit and leaf design of Louis XIII style" covered with oriental rugs that were also sold with deckchairs (lot 289 of 1898 sale. In the rear of the studio we recognize two famous works by the painter: The Footbridge in Stiring, August 1870 painted the same year (Stiring Town Hall) on the right, and the Attack on a Barricaded House at Villersexel (1875, Musée d'Orsay) on the left, both featured at the sale on May 5, 1886 (lots 7 and 8). Not all the paintings on the walls are Neuville's; the posthumous sale in 1898 shows that the artist loved the paintings by Détaille, Gudin, as well as by the Russian artists Alexey Petrovich Bogolyubov (1824-1896) and Pavel Osipovich Kovalevsky (1843-1903). He also owned a landscape watercolor by a Bourgoin (lot 68), who, if not Adolphe Aimé Bourgoin, could be Marie Désirée.
There exist photographs of Alphonse de Neuville's studio made by Auguste Giraudon; taken after the painter's death, they do not show quite the same arrangement, but include certain elements, paintings, of course, the table, lances and weapons. The atmosphere of the studio, perfectly captured in the watercolor, is completely fin-de-siècle and it mixes the Haute Époque, the Oriental Art and Ancient History. It is interesting to compare it with that of Edouard Détaille's studio, the other battle painter of the time, who was much more orderly and methodical.
Besides its beautiful decorative quality, Marie-Désirée Bourgoin's watercolor provides valuable evidence of the eclectic taste and excessiveness of the time. She beautifully and with a touch of humor captures the painter absorbed in his work, dressed in a military uniform himself. This talented watercolor artist is little known. She mainly painted landscapes, but also made beautiful portraits, such as Sarah Bernhardt Sculpting in Her Studio and interior views, for example Interior of the Luis XII Gallery of the Baron A. de Rothschild.
---