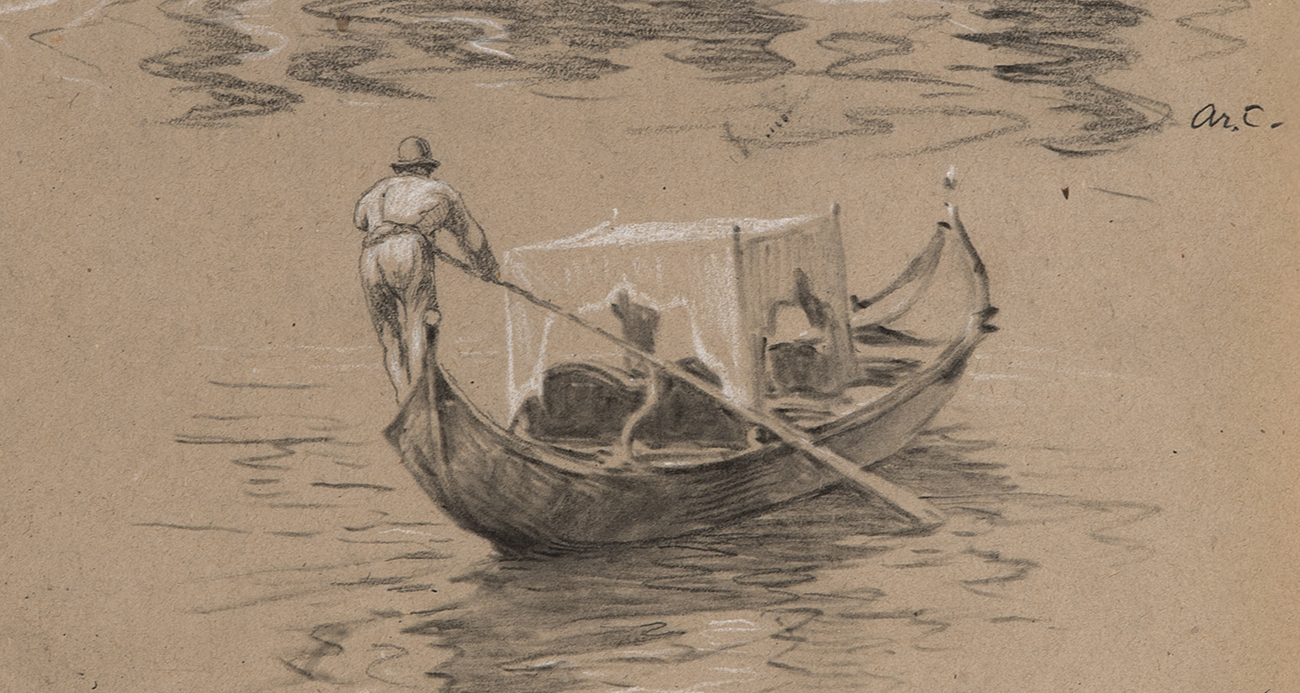 In the book Une lignée d'artistes suisses : Müntz-Berger, Alexandre et Arthur Calame (A Lineage of Swiss Artists: Müntz-Berger, Alexandre and Arthur Calame), Daniel Buscarlet retraces the life and work of his grandfather, Jean-Baptiste Arthur Calame from the archives and from works that were kept in his family.[1] Buscarlet's testimony enriches the scattered information that we have on this artist.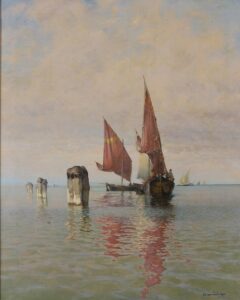 Son of the great landscapist Alexandre Calame, Jean-Baptiste Arthur began his apprenticeship at his father's side, copying his drawings and paintings. In 1860, during a stay in the South of France, he was "conquered by the sea, by the boats and by the animation of these people of the Midi". At the death of his father in 1864 and on his father's recommendation, Calame went to Düsseldorf to study in the studio of Oswald Achenbach, a master recognised by his contemporaries for his rendering of brilliant light effects and landscape. Calame exhibited in Germany where his works were much appreciated, then returned to Geneva in 1867 to open his own studio. He received several medals: in Dijon in 1887 and in Lyon in 1894. Most of his paintings are held in Germany and Switzerland, including Paysage au clair de lune à Bordighera (Moonlit Landscape in Bordighera), Kunstmuseum, Basel (inv. 163); Soleil couchant à Vevey (The Setting Sun in Vevey), Musée d'Art et d'Histoire, Geneva (inv. 1885.0007) and Barques dans la lagune de Venise (Boats on the Venetian Lagoon), Musée des Beaux-Arts de La Chaux-de-Fonds (fig. 1).
Calame's work is marked by his attachment to Italy ­– San Remo, Savona, Tuscany, Naples, Sorrento, Amalfi, Capri and Venice – and to the South of France – the Côte d'Azur, Hendaye, Hondarribia – where the beauty of nature bathed in warm light seduced him. By the end of his life, Calame preferred the ocean and became attached to the sights of Normandy and Brittany, making numerous sketches of details of sailors, boats and calvaries. The artist likes to "draw what he sees as he sees it". He repeats the same drawing several times and tries to make the parts of the body as expressive as his characters' faces; he focuses on details and writes in one of his notebooks: "This summer ­– study baskets of tomatoes, eggs, cabbages, carpets, upholstery…paint dead fish…goat hair in the sun.… "[2] Calame seeks to portray the effects of texture, light and water constantly ­– displayed to their utmost when it comes to Venice.
In this city, of which he is particularly fond, Calame often spent summer in the company of his family, producing a large number of canvases where his meticulous brushstrokes contrast with the speed and energy that emanate from his sketches made on the spot, often executed in black and white chalk on coloured paper.
The group of studies we are presenting relate to one of Calame's many stays in the Doges' city. At the end of the 19th century, Venice remained a key destination that attracted artists to a cosmopolitan, light and festive society in a literary and cultural atmosphere conducive to creation. Walking the alleys and quays, Calame draws what he sees there, particularly boats, gondolas or fishing craft. More than the Venice of palaces and churches, more than the café society's favourite vacation spot, it is a maritime city populated by gondoliers and fishermen that Calame recreates in these drawings. Rather than Byzantine and Gothic architecture, palaces and churches, it is the wooden frames of Venice's fishing boats, the piles of ropes and nets and the sails that hold his interest; instead of worldly and ethereal beauty, we see navigating gondoliers and fishermen leaning over their boats.
Calame's drawings, made with a sure and free hand, reflect a solid academic background but also a modern slant. His views of gondoliers on beige paper, often signed, were presumably intended for commerce and can be compared to the picturesque, touristic production that Venice inspires in many artists, while the larger studies on white paper, prepare compositions intended for paintings.
[1] Daniel Buscarlet, Münstz-Berger, Alexandre et Arthur Calame, Delachaux et Niestlé, Neuchâtel, 1969, p. 93-137. An exhibition of Arthur Calame's works was also displayed at the Athénée, Geneva, from the 7th February to the 2nd March, 1969.
[2] Daniel Buscarlet, op. cit, p. 120.